Outreach Activities at A&M Baylor College of Dentistry
Texas A&M Health Science Center Baylor College of Dentistry has a strong presence in the community as the largest single provider of oral health care in the Dallas/Fort Worth area. 
Each year, nearly 200,000 children and adults benefit from oral screenings, examinations, sealant applications and educational programs offered through the college at health fairs, nursing homes, elementary schools and correctional facilities. 
In addition, patients make more than 100,000 visits annually to the dental school's clinics to receive treatment for a wide variety of oral health issues.
The college's Department of Public Health Sciences continues to raise awareness among students about the need for strong public health programs.  Fourth-year students are required to participate in a one-week rotation in a public health care setting that includes a three-day sealant program in area elementary schools.
Dental Health Check
With the new health insurance marketplaces set to open October 1, many Americans are still confused about what to do or what insurance options apply to their individual circumstances.
Dentist and Texas A&M University Baylor College of Dentistry faculty member Dr. Linda Niessen will sit down with national insurance expert Evelyn Ireland to discuss this important issue and help viewers navigate the insurance complexities during the Sept. 25 live webcast of Dental Health Check.
How to View the Live Webcast
On September 25, 2013 at Noon, goto: Dental Health Check
---
Webcasts On-Demand
HPV and Oral Cancer - What you need to know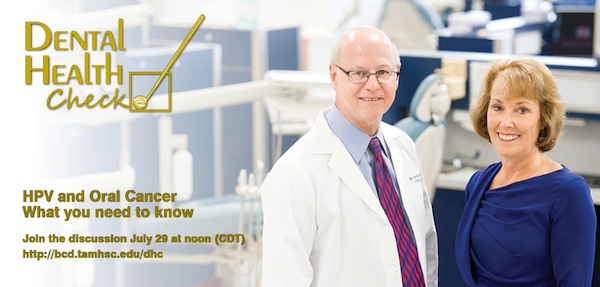 Twenty-five years ago, oral cancer was mainly associated with tobacco and alcohol users, but now the sexually transmitted human papilloma virus is causing an increase in the number of throat cancers, particularly in men. Approximately 37,000 Americans will be diagnosed with oral cancer in 2013.
Texas A&M University Baylor College of Dentistry invites you to go inside the mouth as dentist and oral pathologist Dr. John Wright discusses the human papilloma virus and oral cancer during a live webcast of Dental Health Check Monday, July 29, at noon.
Fellow dentist Dr. Linda Niessen will host the live hour-long event allowing viewers to ask questions, discuss diagnosis and treatment options and educating patients on oral cancer risk factors.